My Resume
Jump to navigation
Jump to search
Hello! I'm Foone Turing, a Python programmer living in San Leandro, CA.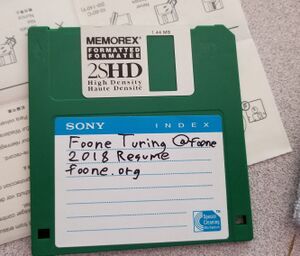 I'm primarily focused on back-end/tooling stuff rather then web development, with a lot of continuous integration/testing/SRE focus in the last few years.
Profile
Administered sites on a variety of home servers, shared hosting, and VPSes.
Managed medium-scale data storage systems in both personal and work spheres in the realms of terabytes of storage/access/conversion/migration.
Created and maintained several large dynamic websites with millions of monthly hits.
Self-taught programmer with skill in multiple programming languages such as C/C++/Java/Ruby/JS/Lua, with Python as my primary development language.
Independently developed and released dozens of applications and games for Windows & Linux.
I've a long history with the software archival scene, helping restore unreleased games from old backup tapes, and working with Microsoft and the former Argonaut Games to facilitate the release of the source code for Microsoft 3D Movie Maker and the Argonaut BRender 3D engine.
Work Experience
Continuous Integration/System Administration – Backblaze (2019-2022)
Backblaze does online backup and storage. I worked on managing and maintaining servers, and
building new continuous integration tools for software testing.
Debugged issues with secure backup export media creation
Developed a fully automatic testing system to allow automated testing of the main web stack
Maintenance of CI servers and job management
Site Reliability Engineering - Google (2019)
I was on the Google Meet/Google Voice team, working on migrating legacy code to newer frameworks to remove historical limitations, as well as maintaining backup and testing systems.
Continuous Integration – Pure Storage (2014-2018)
Pure Storage builds enterprise all-flash storage system. I worked on developing and maintaining continuous integration test architecture.
Created a new management system for windows testing, to homogenize and monitor dozens of build machines that can't be handled using standard Linux build tools.
Rearchitectured a legacy part of our build system to avoid difficulty with supporting unique environments like archaic Unix derivatives.
Migrating build machines onto an open virtualization platform
Embedded development – Konami Gaming (2014)
Konami Gaming produces slot machines and casino management systems.
My roles at Konami Gaming were development and testing of communication middleware.
Modernized SOAP communication systems to simplify deployment in embedded environments.
Built new testing tools to better perform load-testing.
Web development – Soomo Publishing Inc. (2012-2013)
Soomo develops "web-texts" which are online textbooks for distance-learning universities.
My roles at Soomo included web development, plug-in development, and data processing.
Developed a new Blackboard Learning System plug-in to integrate with Soomo.
Built processes to generate iBook resources from our web content.
Helped modernize our primary web-text with dynamically generated graphs.
Computer Programming – Contracting with STG Inc. for NCDC (2008-2012)
STG is a US government contractor for IT, Software development, and general mission-support roles.
I worked there full-time supporting National Climatic Data Center operations. My roles at NCDC were website maintenance and data modernization.
Moved our publication/form serving site to a webservice backend.
Migrated several historical databases out of MS Access into standardized web apps.
Rescued 15 TB of data from one of our subcontractors we had legal issues with.
Developed a maintainable replacement for the subcontractor's Sharepoint-based site.
Computer Programming – Unique Logic (2005-2006)
Unique Logic develops attention-training games and hardware for children with Attention Deficit Disorder. I worked part-time as a bug-fixer and general site developer.
Fixed issues with their serialization subsystem which were causing data loss at unpredictable times.
Discovered several security issues and advised them on mitigating their impact.
Developed a PHP-based site for user feedback.
Education
University of North Carolina at Asheville - Bachelor of Science in Computer Science.
Asheville-Buncombe Technical Community College – Studied Electrical Engineering
Blue Ridge Community College – Studied networking & PC repair.
Computer Skills
I've used a wide variety of technologies for personal and work projects, and I'm always looking to learn a new framework if it lets me do something easier or better.
I do a lot of server-side development but I'm increasingly doing more work on the client side.
I've used many of the "mainstream" web stack technologies (Apache/PHP/MySQL, Tomcat/Spring/Oracle, Ruby on Rails) and some less common ones (Django/Pylons/Flask, gunicorn/gevent-http, redis/MongoDB/SQLite).
I do most of my development in a mix of Eclipse, vim & sublime text, and I'm competent with git, bazaar, and subversion for code management.
I run Debian derivatives (Ubuntu or Xubuntu) on my personal machines/servers, and I've worked extensively on RHEL/CentOS and Slackware systems.
Outside of Linux, I'm well acquainted with using/administering/developing for Windows, OS X, and MS-DOS systems.
I've worked with various virtualization systems running both Linux and Windows VMs, from full virtualization (VMWare, VirtualBox, Openstack) to container-based (Docker).
Contact
If you're interested in hiring me, contact me on mastodon (@foone@digipress.club) or send an email to the address in the image to the right.

PDF version